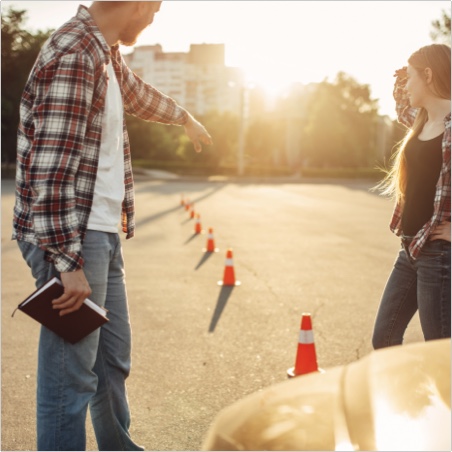 Here is where the foundation begins. The first key to driver training is risk management. Professionally, we manage risk in three ways: Education, Safety Equipment (extra brakes and mirrors) and Practice Location.
We always start in an open parking lot—the fewer obstacles the better—because we want to eliminate the possibility of a collision. Even at low speeds, a collision is devastating to the confidence of the new driver (not to mention the repair costs). In the parking lot, we will orient the driver to the vehicle and practice the three driver inputs: Acceleration, Braking, and Steering.
In addition to foundational training exercises, we are assessing the new driver's confidence, maturity, aptitude, and beginning skill set. This initial assessment sets the tone for all the lessons that follow, as well as the homework recommendations we will be giving to the parents. This is a great lesson for parents to ride along and accompany their new driver. Not only will you get to see your teen's progress, you will also learn the methods we use to deliver instructions, keep the new driver calm, and enjoy the process of teaching a teen to drive.